Roundtree explains why the sheriff's department can't help Arbrie's mother attend the funeral
---
Richmond County Sheriff Richard Roundtree is being pressured to help the mother of drive-by shooting victim Arbrie Anthony be transported from state prison to attend her daughter's funeral.
But the Richmond County Sheriff says deputies have not made any such transport since the pandemic began in 2020.
"And we don't do that for anyone convicted of a violent crime," the sheriff said Monday.
The 8-year-old girl's funeral is scheduled for 1 p.m. Wednesday at Hillcrest Memorial Park on Deans Bridge Road, according to an obituary.
A campaign to pressure the sheriff and other elected officials to allow the funeral visitation began this week. The girl's mother, Teausha Tanksley, has been in prison since February 24, 2021, sentenced to 10 years in prison for unrelated aggravated assault, possession of a weapon and shoplifting.
---
A sheriff's report says she stabbed Arbrie's father, Arthur Anthony, with a knife during an argument on Oct. 30, 2020, at their home on Third Avenue. Arthur Anthony recorded the attack on his mobile phone where it is shown with a kitchen knife and a "bottle of lighter fluid", the report said.
"Tanksley was acting very aggressive and irrational during the video," the report said.
There are suggestions to let Tanksley watch the funeral from a distance, but that's a decision the state prison must make, authorities said.
Roundtree said he spoke to the victim's family and told them directly that he could not help release her for the funeral.
Tanksley is housed at Metro Transitional Center in Atlanta, a minimum-security facility for adult female criminals, according to a state prison's website. She has been arrested more than a dozen times for shoplifting, trespassing, carrying a concealed weapon, domestic violence and multiple counts of contributing to the deprivation of a minor.
A Snapchat post from "Lashay Green" (pictured below) tells people that Roundtree is "NOT trying to let my sister come home to bury her daughter!!!"
The post continues: "If any of my snappers know of anyone with 'mayor' connections or know of anyone my family can contact to help us get my sister home to bury her daughter!! !"
Friends of the mother contacted numerous media to publish the story.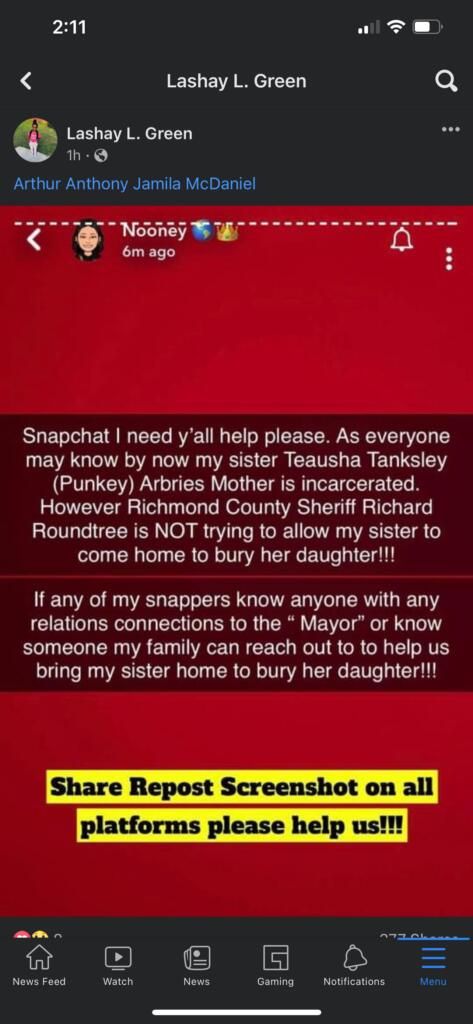 Greg Rickabaugh is the prison report contributor for Augusta's Press. Join it at [email protected]