Longtime gamekeeper Lou Kis is considered 'larger than life'
---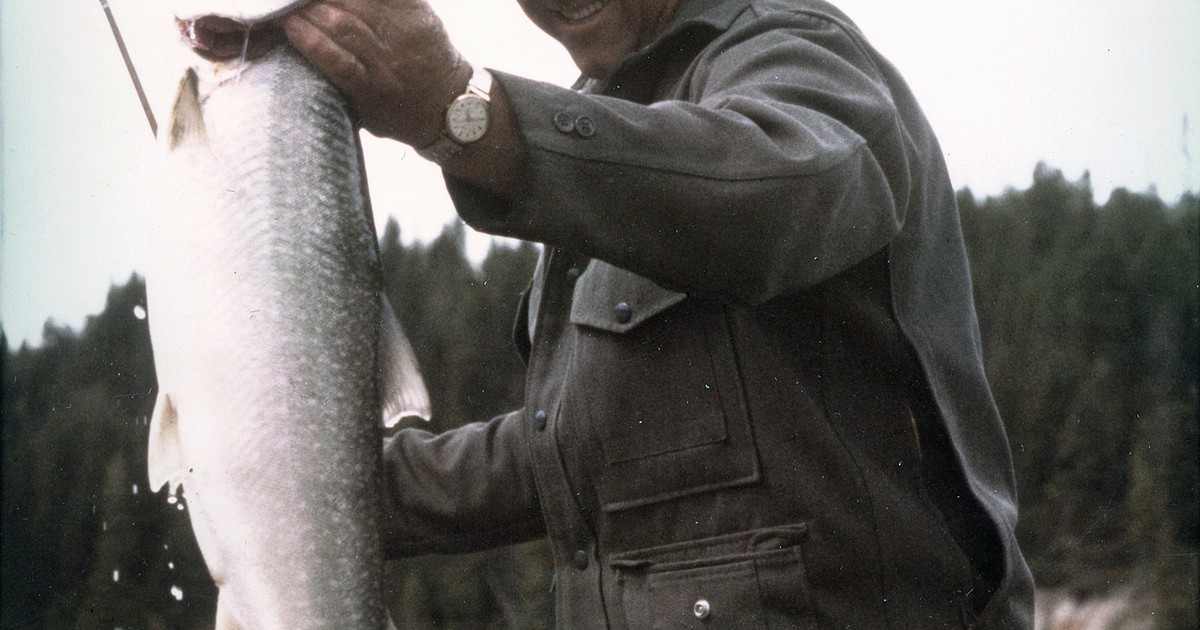 The Flathead Valley lost a true living legend last week with the passing of Louis Kis, a longtime Fish, Wildlife and Parks game warden described by many as "larger than life."
From his early days with the FWP as a game warden in Butte, to his decades as a bear management specialist in the Flathead, Kis' reputation has been solidified by stories of his exploits. From the moment he knocked out a professional boxer with a single punch, to the moment he survived the mauling of a 500-pound grizzly bear, Kis was a man who relied on his courage and determination to get him through any situation.
Kis died Feb. 20 at the Veterans Home in Columbia Falls. He was 95 years old.
"The best way to describe Lou was that he was quietly confident. He knew he could do anything with determination," his stepson Michael Schulze said on Tuesday. "He was larger than life. That might be the best way to describe it. Although it is larger than life. He didn't flaunt it or brag about it. He was honest, fair and determined. Integrity and character were important to him.
A 2019 recipient of the North American Wildlife Enforcement Officers Association Distinguished Service Award, Kis graduated from Polson High School in 1944 before joining the US Naval Air Corp at the end of World War II.
After a short stint in the logging industry, Kis answered an ad looking for game rangers and soon went to work for Montana Fish Wildlife and Parks.
Kiss was given a mission in Butte, where the former game warden had been driven out of town by locals who refused to recognize his authority. Kis soon found himself faced with the same attitude. When a local law firm informed Kis that they would represent anyone receiving a ticket from them pro bono, Kis replied that they would drive them out of business by keeping their lawyers busy working for free.
People's attitudes towards Kis changed after an incident involving an angry mob seeking gunfire for coveted hunting licenses for male elk.
Surrounded by an angry crowd, Kis told people to stand back and wait their turn. That's when someone punched Kis in the jaw and nearly knocked him down.
Quickly regaining his composure, Kis spun around and punched his attacker and knocked him to the ground. The man Kis had knocked out turned out to be professional boxer Johnny Messonavic, generally considered Butte's toughest man.
After that, the town and its people had a newfound respect for Kis, though Kis broke his pinky finger with the punch, an injury that left his finger forever at an awkward angle.
"After that, when he asked people to pull out their permits, they quickly got their permits," Schulze said.
AFTER HAVING BEEN promoted to captain and spending time in Miles City, Kis came to Kalispell as soon as he could to become the local bear expert.
It was during his time here that Kis appeared before the state legislature in an effort to convince them that the state should issue guards with guns. He was instrumental in the selection of the Smith and Wesson .357 magnum revolver as a firearm, a decision that would later help save his life.
The incident for which Kis is best known happened around 1 p.m. on a Wednesday afternoon, June 25, 1987.
Accompanied by colleagues from the FWP as well as two members of the Outdoor Writers Association of America, who had attended the group's annual meeting in Kalispell, Kis and the group headed for the South Fork of Bunker Creek deep into the Bob Marshall Wilderness to relocate the grizzly that was captured after killing a cow on the Blackfoot Indian Reservation.
With the culvert trap set in the back of the truck, Kis climbed onto it and lifted the door to release the bear, as he had done many times before. Ordering the driver to move the truck when he heard the door close, Kis released the bear and dropped the door.
The truck did not move.
The bear, which Kis had expected to head for the creek when released, instead turned around and started reaching for Kis at the top of the trap. A lightweight aluminum trap designed to be moved by helicopter, the contraption slid off the truck, dropping Kis directly onto the angry grizzly.
Reacting on instinct, Kis drew his .357 magnum revolver from its holster and fired four quick shots into the bear's forehead at close range. Kis would later learn that the four shots ricocheted off the bear's skull and lodged in its hump.
The fifth shot from the six-shot revolver missed, and with only one shot remaining, Kis grabbed the bear, put the revolver under his neck, and fired his final shot.
The final blow severed the bear's spine in the neck, dropping him instantly.
After his colleagues fired three 12-gauge shotgun rounds at the still spastic bear to make sure he was dead, Kis pushed the 500-pound animal back, picked up his cap, dusted his leg and summed up the moment with just two simple words, "Well, shit."
As he sat down on a nearby log to recover, Kis first noticed the blood on his leg. At first he thought he belonged to the bear. He had no idea the grizzly had bitten him, completely fracturing his tibia and partially fracturing his fibula, while inflicting four deep puncture wounds.
As he was loaded onto a rescue helicopter (which had been summoned against his objections) for transport to Kalispell, Kis turned to his colleague Floyd Thomas and asked, "Floyd, you're a pretty good keeper, but you have have you ever ridden a grizzly bear?"
With the entire incident filmed, Kis later gave press interviews from his hospital room, with the incident quickly making national headlines.
After surgery to repair the damaged leg, Kis reportedly told a nurse to "take the IV out and give me a Bud Light and I'll be fine."
Schulze, who still has one of the balls recovered from the bear, says the incident was far from the only time his father was bloodied.
Schulze once came home to find blood smeared on the door, storage room, and sink.
"When I investigated, I found Lou in the backyard building a gazebo, a bandage of duct tape covering the spot where he had accidentally sawed his thumb down to the bone," said he declared. "He's just the kind of man he was."
MANY PEOPLE remember Kis for his determination and courage, but Schulze spoke of another side to his stepfather that few have ever seen.
"He would catch fishermen who had caught well over their limit and he would confiscate the fish. He would bring them home and ask us to help clean them, then he would take the fish and give them to families who needed food," Schulze said. "Years later, I was still meeting people who remembered my father bringing them fish when they needed it."
Along with helping those in need, Schulze said Kis is also a wonderful family man.
"When he married my mother, he brought us three children and treated us like we were his own. It takes a lot of time and it's not easy. That's the kind of man he was. "said Schulze. "As a father, he always had time for me. Even after a long day at work, he was throwing the ball with me – literally almost every night. We played pool downstairs. He was always showing me things and working to instill a good work ethic and good character. I know I wouldn't be who I am today without him. I would not have been able to accomplish what I have without his influence and guidance.
A well-known lover of pie, especially blueberry, Kis was also an accomplished photographer. His posters, postcards, and annual calendars were sold in stores as far afield as Nevada and New Mexico.
"He would sit there forever, just sit there. When I was a kid, it drove me crazy, but he had the patience to wait for the perfect shot," Schulze recalls.
Whether it's logging, patrolling or taking photos, Kis has spent much of his life in the outdoors he loved so much.
"He was tough, but he was always fair. He loved northwest Montana, the wildlife and the environment," Schulze said. "All he wanted was to be here and outside, caring for animals and helping people benefit from the resources we have."
Journalist Jeremy Weber can be reached at 406-758-4446 or [email protected]