Georgia officers accused of racial profiling of DSU lacrosse team
---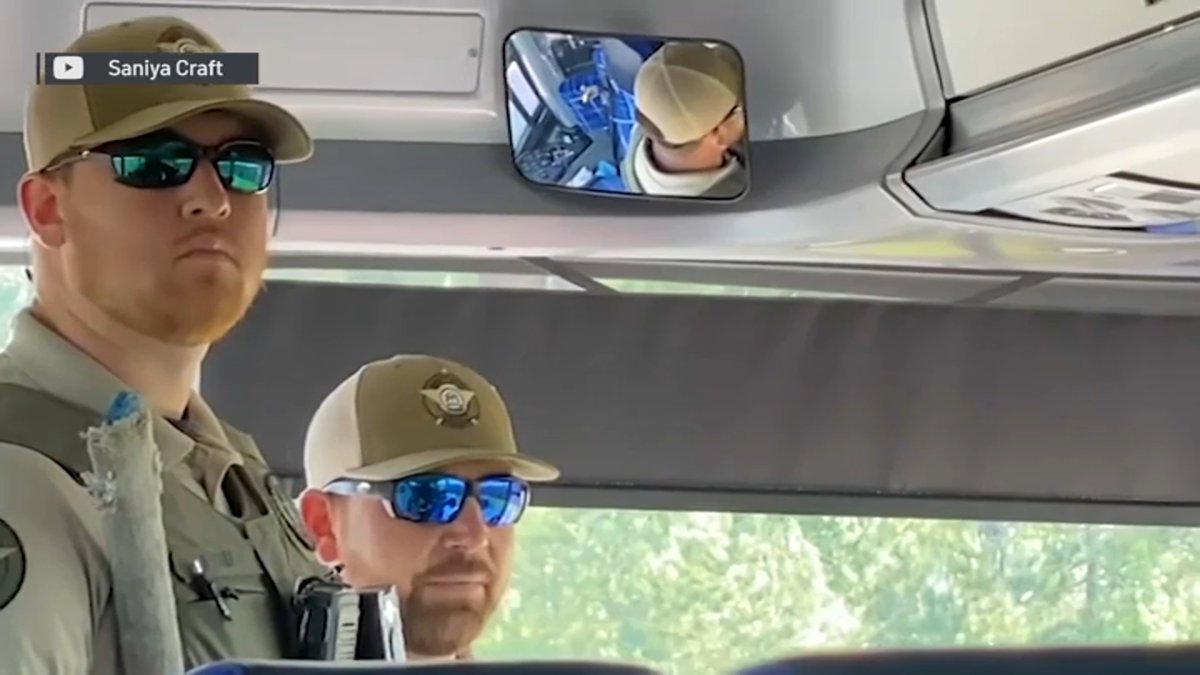 UPDATE: Newly obtained body camera footage contradicts statements by the Liberty County Sheriff. New video and details here.
Members of a Georgia sheriff's department are charged with racially profiling the Delaware State University lacrosse team last month. Now, the president of the historically black university is demanding answers and considering possible legal action.
On April 20, the DSU women's lacrosse team was on a bus heading home from a game in Florida. While traveling on I-95 in Liberty County, Georgia, the bus was pulled over by officers from the Liberty County Sheriff's Department.
In a letter, DSU Chairman Tony Allen wrote that officers stopped the team "on the pretext of a minor traffic violation." Officers boarded the bus and claimed the driver had committed a traffic violation as he was driving in the left lane, according to a member of the lacrosse team.
"The student-athletes' personal effects, including suitcases in luggage racks under the bus, were searched by police and drug-sniffing dogs," Allen wrote.
The incident was captured on video and later posted on YouTube.
"They take our luggage out and they have dogs running through, sniffing our stuff," Pamella Jenkins, head coach of the DSU women's lacrosse team, told NBC10.
Allen wrote that officers tried to intimidate the team into confessing to possessing drugs or drug paraphernalia.
"Their response was on this stretch of highway that a lot of buses like this are carrying people and narcotics and they have to be vigilant when checking," Jenkins said.
Officers searched the bus but no drugs were found.
"To be clear, nothing illegal was uncovered in this research, and all of our coaches and student-athletes conducted themselves with dignity throughout a trying and humiliating process," Allen wrote.
Team member Sydney Anderson wrote about the incident in DSU's student newspaper.
"He went from two officers to six officers and they pulled out their K-9s," Anderson told NBC10. "They started smelling our bags. Go through everything. Our personal hygiene like underwear and whatever is in the bags and they did it for about twenty minutes.
Most members of DSU's lacrosse team are African American. Jenkins and Anderson believe the incident was racially motivated. Allen, meanwhile, contacted the Delaware governor, the congressional delegation, the attorney general and the Black Caucus.
"They, like me, are furious," Allen wrote. "We have also contacted Georgia law enforcement and are exploring recourse options, legal and otherwise, available to our student-athletes, coaches and the university."
Jenkins told NBC10 that she wanted an apology from Liberty County Sheriff William Bowman, who is African American.
"That would be great. Yes. Yes. An apology," she said. "And just an acknowledgment that this is not something our student-athletes have to look forward to. normal that this happened to us.
Liberty County Sheriff William Bowman has denied allegations that members of his department racially profiled the Delaware State University women's lacrosse team when their bus was stopped for a traffic violation, then searched for drugs. Watch his full press conference.
On Tuesday, Sheriff Bowman addressed the incident and denied the racial profiling allegations.
"As a veteran, former Georgia State Trooper, and sheriff of this department, I do not racially profile, authorize racial profiling, or encourage racial profiling," a- he declared. "From what I understand, I believe the stoppage was legal, but I also understand my duty to help the public understand the application of the law while looking for ways to improve services. "
Bowman said the bus was one of several commercial vehicles that were pulled over April 20 after the driver committed a lane violation. Georgia state law requires a bus or coach to operate in the two rightmost lanes, except when the bus or coach is preparing to turn left or moving to or from a designated passenger lane. high occupancy vehicles (HOV or carpooling), according to Bowman.
Bowman also said the "contraband" was on another bus that was stopped that day.
"Due to the nature of the detail, a K-9 was part of the stop and an alert was given by the K-9," Bowman said. "Prior to boarding the coach, deputies were unaware that this school was historically black or aware of the race of the occupants due to the height of the vehicle and the tinted windows."
Bowman also said searching for the Delaware State University bus was part of their standard protocol.
"It's the same protocol that should be used regardless of the passenger's race, gender, age or destination," he said.
Bowman also denied that personal items were searched on the bus.
"No personal items on the bus or anyone was searched," he said. "As part of our training, deputies are responsible for talking to people respectfully and explaining the next step."
Bowman confirmed that no drugs were found during the search. He also said the driver received a warning.
"We realize that [under] In this current environment, even a traffic stop can be alarming to citizens, especially African Americans," Bowman said. "That's why we strive to have a diverse service and hire people who believe in community policing and respect for all individuals."
In the days and weeks following the incident, Bowman said his department was unaware of the controversy or allegations of racial profiling.
"While I do not believe racial profiling has taken place based on the information currently available to me, I welcome feedback from our community on ways to improve our law enforcement practices while maintaining the law," Bowman said. "More than anything, we want feedback from the passengers of the University of Delaware lacrosse team."
Bowman also said the incident was under formal review to "ensure there were no policy violations and that applicable laws were followed."
Bowman said the comments could be shared on the Liberty Sheriff's Department website.
In a statement Wednesday, Allen said Bowman had spoken to him about the possibility of contacting the DSU lacrosse team for input to help the department "improve its approach to people of color."
Allen said he looked forward to hearing from Bowman how "he would like to proceed with this." Allen also said Bowman's public statement on body camera footage of the incident raises more questions than answers.
"Sheriff Bowman insists personal items were not searched; the video clearly shows officers searching toiletries and clothing, and even opening a graduation present for the family," Allen wrote. "Sheriff Bowman said officers were unaware of the nature of the passengers on the bus; the audio clearly shows that officers both knew it was a bus full of "school girls" and that they did not expect to find anything other than marijuana, which the officer who entered the bus said they were not looking.
Allen said he would work to get "objective external authorities" to investigate the incident.